»
Disability-friendly
»
Highland
Hotels, Bed and Breakfasts (B&Bs), Guest Houses, Pubs and Inns in HIGHLAND
If you have a disability, finding a friendly place to stay isn't always easy, but all hotels, B & Bs, Guest Houses etc. listed in this section specify that they welcome guests with a disability. Please check the description and/or contact the establishment to ensure that any specific facilities you require are available*
* Please read our Terms & Conditions and Disclaimer
Browse through all the listings below or go straight to these towns in Highland with Disability-friendly Hotels, B&Bs, Pubs etc..
Showing 1 - 2 of 2 Disability-friendly places in Highland, Scotland
Any places with Bargain Breaks or Special Offers are shown first followed by others in hourly changing random order.
Balavil Hotel
Newtonmore, Highland, Scotland [Google Map]
Self Assessed 3 star
Hotel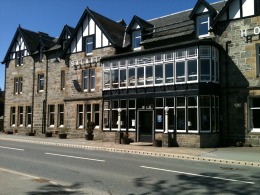 Quick facts...

Amenities: Non-smoking (throughout), Internet access (wireless) in public areas,
Accessibility: Accessibility information is shown below
Description:
51 rooms, with prices from £40
Accessibility:
1 step from entrance to entrance hall.
We are:
Biker Friendly
Business Traveller Friendly
Child & Family friendly
Cyclist friendly
Disability friendly
Gay friendly
Groups Friendly
Solo Traveller friendly
Walker friendly
Address:
Balavil Hotel, Main Street, Newtonmore, Highland
PH20 1DL Scotland
Homagen Bed & Breakfast
Fort William, Highland, Scotland [Google Map]
Visit Scotland 3 star
Bed & Breakfast
Quick facts...

Amenities: Lock-up facility for bicycles; Non-smoking (throughout); Lounge; Ironing facilities; Internet access (wireless) in public areas;
Parking: Free parking; On-site parking;
Description:
5 rooms, with prices from £28
We are:
Child & Family friendly
Disability friendly
Address:
Homagen Bed & Breakfast, Roy Bridge, Fort William, Highland
PH31 4AN Scotland